Sometimes, we can fall into the trap of thinking we are "all set" because we have so much insurance in our lives that… well… we just have to be all set. Right? Not always.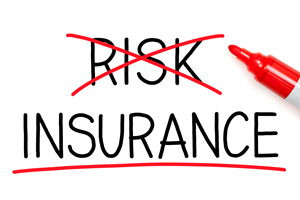 We often deal with clients whose chief concern is keeping their life and disability insurance costs down. No argument there, I work in the insurance industry and do not want to pay one penny more for my own insurance than I have to. The truth is that all of us spend a lot of money on insurance every year.
A recent client of ours, a physician in Indiana, who was seeking life and disability insurance had the following insurance costs already in his life:
Life Insurance
Car Insurance
Homeowner's Insurance (primary residence and vacation home)
A personal umbrella policy (excess liability insurance on top of homeowner's insurance)
Boat Insurance
Insurance on his cell phone (as well as a couple appliances and the television that were one-time expenses)
Professional Liability Insurance
Business Owner's Insurance which included:

General Liability
Worker's Comp
Cyber-liability
Audit-protection
, etc. etc.
However, in this case, the client was actually underinsured… (stay with us, this is not "insurance agent trying to just sell something" talking). The client himself approached us because he had some concerns about the areas he felt he was underinsured. Namely-
Additional life insurance

only had a $500,000 term policy, barely 18 months salary replacement

Individual disability insurance

his was a very small practice and had zero group coverage

Business overhead expense disability insurance

with individual disability insurance he would be personally protected from income loss due to accident or illness, but was concerned about how to keep the doors of his practice open in that same circumstance
The additional insurance policies were underwritten and put in place for him and, yes, they added "expense" to his life. But, the benefit is that he is now properly insured (in his eyes and ours) and knows that if something unfortunate should ever happen; his business, family, and income are protected.
Some of the ways we helped to keep insurance costs down:
Low Cost Term Life Insurance – by scanning the marketplace, we were able to pursue an A+ rated insurance company (this was very important to the client, the carrier had to be A or A+), fight to get him the top health rating, and secure the lowest cost term insurance available for him.
Laddered Term – through our consultation with the client, he stated that his life insurance needs (total death benefit) would decrease over time as he was rapidly accumulating other assets. We structured a laddered term life insurance portfolio (e.g. $5MM for 10 years, $4MM for 20 years, $3MM for 10 years) that saved him money on the life cycle cost of his insurance while still meeting his needs and wants. Side note: he kept the $500,000 policy he had because he purchased it when he was relatively young, so it was extremely inexpensive, so we integrated it into his life insurance portfolio design.
Disability Insurance – we ensured that this client had the appropriate level of income replacement and the riders he felt were absolutely necessary (own occupation, future purchase options, cost of living adjustment, residual benefit) and stripped away the other riders the client decided he did not need after he was educated about them.
Business Overhead Expense – in addition to policy structure and riders, we compared using the same insurance company for both his disability insurance and overhead expense versus using two separate companies. In this case, it was more advantageous (cost & policy features) for this client to pursue two different companies.
To summarize, you cannot avoid paying for insurance but you can help keep your costs down by working with an agent who:
Ensures you are not paying more for term life insurance than you need to.
Properly explains all policies (during the proposal phase) as well as the associated features, benefits, riders, and costs.
Works with a wide variety of carriers to be certain that you are getting the best options the insurance

industry

has for you, not just the options of one particular company.
Understands the dynamic of the life and disability marketplace:

Which carriers are more competitive?
More competitive for your occupation?
Do they offer true own occupation?
Are there association or "multi-life" discounts available to you?

And finally, someone that will not undo the good work you have already done.
To get quotes on instant quotes on life insurance:  click here
To contact a member of our team with a question, to begin a discussion, or request a life insurance review via email:  click here
To arrange a call to discuss life insurance:  click here