Introducing This Exclusive Webinar From Steve Misdea
Specialty Specific Disability Insurance for Physicians - 2020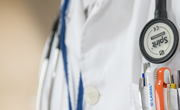 How to find the best policy with discounts - Specialty Specific Disability Insurance
Steve Misdea has been assisting physicians with purchasing disability insurance for 10 years.
Learn about current discounts on the top specialty specific disability insurance policies for physicians.
Insuring Income has various discount programs and we can help each resident to match themselves to the proper program to have a plan they can count on for their career as a physician.
Signup for the February 28th - 1pm  "What to know about disability insurance" webinar
Friday, February 28th
at 1pm EST
Register For The Webinar
* we will not spam, rent, sell, or lease your information *