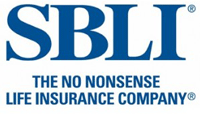 • Among the lowest term life insurance rates in the country
• A+ (Superior) rating from A.M. Best
• Plans that fit your life and budget
• Trusted by hundreds of thousands of families
Since 1907, hundreds of thousands of families have trusted SBLI for affordable, dependable term life insurance.  SBLI offers some of the lowest rates in the country for both men and women, and have earned an A+ (Superior)3 rating from A.M. Best for financial strength year after year.
Two Affordable Choices with SBLI Term Life Insurance
1 ) Guaranteed Level Premium SBLI Term Life Insurance
Lock in the same low rate for the entire term you select: 10, 15, 20, 25, or 30 years. Your premium is guaranteed not to increase, regardless of the economy or other factors. The chart below has examples of how low your rate may be. Guaranteed Level Premium term policies up to $30,000,000 1 can be issued to people ages 18 to 74.
2 ) Yearly Renewable SBLI Term Life Insurance
This policy can be automatically renewed every year until age 902 without proof of insurability. Your premium remains the same during the year, but your renewal premiums gradually increase every year.
Both choices include an option to purchase $10,000 of term life insurance coverage for each of your children. This child rider protects them at a fixed, affordable cost and with conversion can provide future insurability of up to $50,000 with no exams or health questions.
Click for
INSTANT LIFE INSURANCE QUOTES
Click for
INSTANT LIFE INSURANCE QUOTES
Monthly premiums available only when using SBLI's Automatic Plan (APP) which electronically debits your checking account for the premium payment due. Some conditions apply. This rate is for very healthy applicants. Your rate may differ based on health and underwriting.
Policy Form B-56 series.
At the end of the level premium term period, coverage may be continued to age 85 at increasing yearly term rates without proof of insurability.  Age nearest birthday.
To learn more visit www.ambest.com.
Level premium policies available up to $30,000,000.
Not available in all states. Check with InsuringIncome to find out which states SBLI is available in.
Life insurance products are not guaranteed by a bank. They are not a deposit. They are not FDIC insured, nor are they insured by any federal government agency.
**15% First year premium discount for SBLI policies is available if paying on EFT mode for Term Life Policies (20 year, 25 year, 30 year level term).  Only available to AAA members in MA, NH, RI, CT.